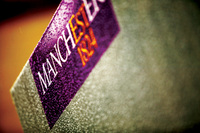 3月23日 2013, 10:30 至 3月23日 2013, 00:30 (时区 +08:00)
活动详情
Manchester Business School Part-time Global MBA Programme is now recruiting students for July 2013 Intake in Shanghai.
On Saturday, 23rd March we are hosting Workshop Taster andInfo Brunch Gathering' – a chance to find out more about the part-time Global MBA by meeting star professor and China Centre Director from MBS.
The event will provide the opportunity to experience British learning style, and find out more about the impact of a Global MBA on your career and learn about how the success of MBS Global MBA in China was achieved in an informal setting, over tea and brunch. You can drop in and see us in the Saturday morning and we'd be delighted if you could come along.
Workshop Taster: Negotiation Skills and Selling Strategies
Professor Francis Chittenden
Before becoming an academic, Francis Chittenden was a practicing accountant whose work experience has also encompassed manufacturing industry, distribution, retailing and banking. During this time he founded or co-founded four businesses. Professor Chittenden is a member of Council of the Association of Chartered Certified Accountants (ACCA), he chairs their Qualifications and UK Small Business Committees and is a member of ACCA's UK Strategy Committee. Francis chairs the SME / SMP Task Force of the Federation of European Accountants (FEE) and is a member of FEE's Sustainability Working Party. Professor Chittenden is a member of the European Financial Reporting Advisory Group (EFRAG) SME Working Party. Francis is a Fellow and past President of the Institute for Small Business and Entrepreneurship; and a member of the editorial boards of the International Small Business Journal and the Journal of Small Business and Enterprise Development. He lectures, publishes and consults internationally on the financing and financial management, taxation and regulation of small and medium-sized enterprises (SMEs). Francis is actively involved in, or has recently completed, research projects with ACCA, the Institute of Chartered Accountants in England and Wales, the Enterprise Directorate of BIS and the British Chambers of Commerce.
"Career Impact of a Global MBA"
Getting the Skill Set you Need to Meet your Career Goals and Earn your World Class MBA without Interrupting your Career.
Sherry Fu, Director, China Centre, Manchester Business School
Sherry Fu has 15 years experience in Mainland China, Hong Kong, Macau and the UK. She established the MBS China international centre in Shanghai in 2008, developing and implementing the School's strategies in the region, managing China centre's operation, and participating in development and management of strategic partnerships in the region.
联系:021-52301885
时间
2013年03月23日, 10:30
- 至 -
2013年03月23日, 00:30 (时区 +08:00)
地点
千禧海鸥大酒店
长宁区延安西路2588号
上海
上海




主办方