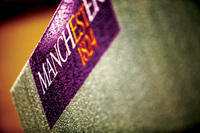 3月12日 2013, 19:00 至 3月12日 2013, 20:30 (时区 +08:00)
活动详情
During the Global MBA workshop taster, Prof. Martin Bennett is going to share the most up-to-date theories and cases concerning how Management Accounting could be in a fast Changing Environment?
Learn more about the Manchester Global MBA through keynote lectures with leading academics, and experienced the British learning style.
About the Speaker
Martin Bennett
Doctor of Philosophy (University of Sheffield)
Module Coordinator at MBS Worldwide
Professor of Part-time Global MBA workshop" Financial and Management Accounting
About MBS
Manchester Business School's MBA program is ranked 5th in the world, based on return on investment, by the respected business title Forbes. Manchester Business School's DBA program was ranked No. 1 by the Financial Times. MBS is one of the world's top 30 institutions that receive triple accreditations (EQUIS, AACSB and AMBA). The Manchester Method is an innovative and practical ap­proach for on-the-job professionals around the world to learn and excel to be future leaders.
l MBA Program ranked No. 5 globally in ROI by Forbes 2011
l DBA Program ranked No. 1 globally by Financial Times 2011
l 4,000 executive students from over 100 countries plus renowned international academics
l Triple accredited by AMBA, AACSB and EQUIS
l Global footprint: 7 MBS Executive Centres to attend workshops - SHANGHAI, Manchester, Dubai, Singapore, Hong Kong, Brazil and Miami.
l 100% English language, international students and faculty
Dedicated global careers service to help enhance your career
联系:021-52301885
时间
2013年03月12日, 19:00
- 至 -
2013年03月12日, 20:30 (时区 +08:00)
地点
千禧海鸥大酒店
长宁区延安西路2588号
上海
上海




主办方