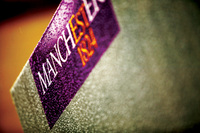 8月30日 2012, 13:30 至 8月30日 2012, 17:00 (时区 +08:00)
活动详情
曼彻斯特商学院校友活动:
Learn to negotiate, Let the world follow you—
How You Can Negotiate to Succeed in Work and Life
Stuart Diamond will launch the Chinese edition of his book Getting More: How You Can Negotiate to Succeed in Work and Life by delivering his ONLY public speech in China to MBS alumni at the MBS China Centre on Thursday 30 August 2012. In addition to this unique opportunity to hear Mr Diamond speak we are also pleased to announce that we will be offering you the chance to win a cruise ticket for two at the event, courtesy of COSTA Cruises.
About the Speaker
Stuart Diamond, a world class negotiator who holds a JD from Harvard and an MBA from Wharton, where he is currently a professor. He has also taught at Columbia, NYU, Berkeley, Oxford and Penn Law School, where he is currently an adjunct professor. He has won numerous awards.
| | |
| --- | --- |
| Time & Date | 13:30 - 17:00, Thursday, 30 August, 2012 |
| RSVP | Seats limited , upon invitation |
曼彻斯特商学院全球MBA项目简介
l 全球顶级课程

曼彻斯特商学院MBA课程荣获2011年《福布斯》毕业生薪酬增长ROI排名全球第5名,

英国《金融时报》全球报名第29位,博士课程全球排名第1位

l 三大国际认证

全球少数荣获三大权威MBA认证(AMBA,AACSB,EQUIS)的商学院

l 纯正英文授课

全英文学习环境,直享国际资源

l 全球校友网络

超过40,000名国际校友遍布全球16个国家和地区

l 本土授课模式灵活

国际水准的英国本校教授亲临全球各中心授课与指导;面授课程与在线支持相结合

无需离开您的工作岗位,就近参加课程

l 七大海外中心可选

学生可自由选择在任意海外中心参加面授课程:

上海/曼彻斯特/香港/新加坡/迪拜/迈阿密/巴西
Why The Manchester Global MBA?
MBA Program ranked No. 5 globally in ROI by Forbes 2011

DBA Program ranked No. 1 globally by Financial Times 2011

4,000 executive students from over 90 countries plus renowned international academics

Triple accredited by AMBA, AACSB and EQUIS

Global footprint: 7 MBS Executive Centres to attend workshops - SHANGHAI, Manchester, Dubai, Singapore, Hong Kong, Brazil and Miami

.

100% English language, international students and faculty

Dedicated global careers service to help enhance your career
About MBS
MBS was ranked within top four in the UK, top nine in Europe and 22 in the world by the Financial Times in 2007. Manchester Business School's MBA program is ranked fifth in the world, based on return on investment, by the respected business title Forbes. Manchester Business School's DBA program was ranked No. 1 by the Financial Times in 2007 and 2008. MBS is one of the world's top 25 institutions that receive triple accreditations (EQUIS, AACSB and AMBA). The Manchester Method is an innovative and practical ap­proach for on-the-job professionals around the world to learn and excel to be future leaders.
*更多信息,联系:021-52301885
时间
2012年08月30日, 13:30
- 至 -
2012年08月30日, 17:00 (时区 +08:00)
地点
千禧海鸥大酒店
长宁区延安西路2588号
上海
上海




主办方